About the Leading Professional Photography Company in Marrakech
STILL IMAGES is proud to be an active member of our local community. We believe that our company has a duty to share our knowledge and sucess with the wider society in which we work.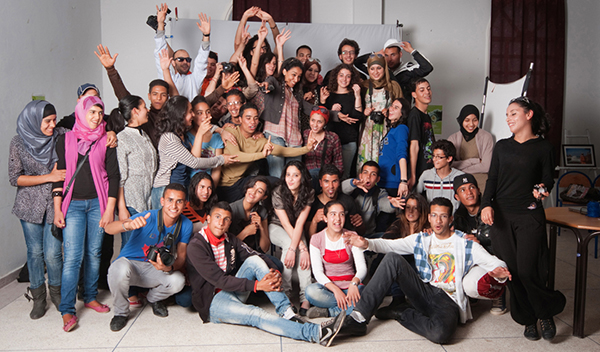 ABOVE IS A GROUP OF YOUNG HIGH SCHOOL STUDENTS FROM SAFI ENJOYING ONE OF OUR PHOTOGRAPHY WORKSHOPS.
Morocco is a young country with an even younger population, and while it is developing fast, there is still a great deal that needs to be done before the whole population can benefit from the country's growing economy. Under the leadership of His Majesty King Mohammed VI, Morocco has made enormous strides in it's economic and social development. Advances that have played a large part in enabling companies like ours to be sucessful.
We do not believe however, that investment in the future of the country is solely the job of government. Private enterprises, like Still Images, must also play their part. Good sustainable business is not just about making money. It is also about helping build a thriving community so that everyone can have the chance to profit from the opportunities that we have been lucky enough to have had.
We do this by offering work experience for up and coming young photographers, participating in workshops for local clubs and schools, and by supporting a number of local and international charities active in and around Marrakech.

Still Images is a founder member of the
BRITISH BUSINESS ASSOCIATION MOROCCO
, an anglophone group of mostly British businesses and individuals in Morocco, which organises seminars about doing business in Morocco and fund raising events in support of charitable organisations such as
Espoir Baby Orphanage
and
Education For All Morocco
.
EDUCATION FOR ALL
was established to help provide the opportunity of a college education for girls from rural Moroccan communities. Its first project, opened in 2007, was to facilitate access to secondary education for up to 36 girls from the remote villages of the High Atlas Mountains by building a boarding house for them in the town of Asni. Today the charity has 6 houses and helps over 300 girls from rural Morocco compete their high school education.
Still images is also supportive of the excellent educational charity
Association Wachma
, started by a group of educational professionals from Safi. Each year we take part in their Journées Photographiques, where we help run weekend photography projects for high school children in their area. The company has also recently started to collaborate with the Art and Cultural Club of the El Khawarizmi Lycée in Marrakech.